A list of all currently open positions, along with a detailed description and exemplary tasks, can be found here
What is the Student Council and what does it do?
We, the Student Council of the Technical University of Munich, represent all TUM-Students, in academic, university policy and cultural matters.
We represent your interests in various university committees in order to...
to improve the quality of teaching
to make the examination regulations fairer
to establish new courses of study
ensure study grants are distributed fairly
to create more learning spaces
to improve the environmental-friendlyness of the university
and much more...
We also organize various events, that enrich your student life, such as
Open Air Festivals in the Summer
"Hörsaal-Slams" (Poetry Slams)
May Parties
Freshers Parties
What topics do we address?
When is the next Senate Session?
When is the next TUNIX Open Air Festival?
What happens during the university elections?
Who organizes all the parties and events?
What are Studienzuschüsse?
Who is the one, who addresses my university-related grievances?
What does my Fachschaft do?
If these, or similar, questions pique your interest, then stop by the Student Council!
With us, you can get involved in many different areas. Does that sound like a lot of work and not much fun? On the contrary! You get to make new connections, take a look behind the scenes of the university, have a lot of fun, and learn new skills.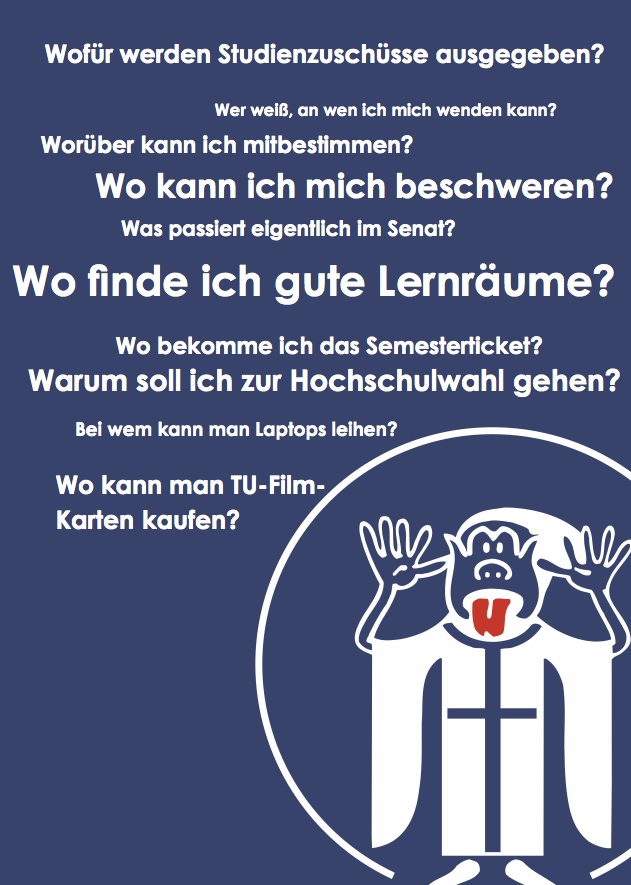 Further Information
Do you want to be kept up to date about the newest developments of the TUM? If so, subscribe to our Telegram Newsletter ! (If you do not have Telegram, you can view the contents here)
University Politics
At the student council, you can engage in university politics to help decide the future of the university.
Did you know, that the Student Countil has a say in the creation of all study regulations? Or that we help decide, where Studienzuschüsse go? The student council is active in many bodies of the TUM and can help make decisions.
If you want to get involved in politics, have your say and participate in decision-making, then university politics is the right place for you!
You can find some current university policy topics here.
Interested?
Interested? Just send us an email (sv@fs.tum.de) or stop by our weekly meetings:
When: Every second Tuesday at 18:30
Where: AStA Office (location) or Online
If you have any questions, do not hesitate to contact us!
See you soon!